Page 10 - MATINF Nr. 8
P. 10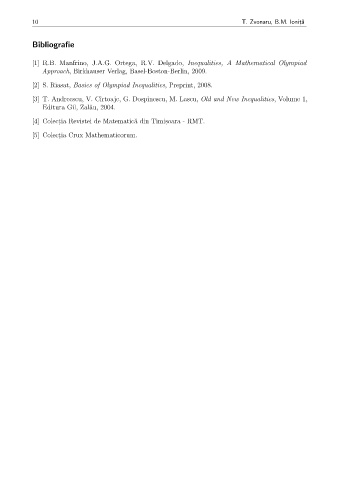 a
            10                                                                        T. Zvonaru, B.M. Ionit , ˘


            Bibliografie


            [1] R.B. Manfrino, J.A.G. Ortega, R.V. Delgado, Inequalities, A Mathematical Olympiad
                Approach, Birkhauser Verlag, Basel-Boston-Berlin, 2009.

            [2] S. Riasat, Basics of Olympiad Inequalities, Preprint, 2008.

            [3] T. Andreescu, V. Cˆırtoaje, G. Dospinescu, M. Lascu, Old and New Inequalities, Volume 1,
                Editura Gil, Zal˘au, 2004.

                                                a
            [4] Colect , ia Revistei de Matematic˘ din Timis , oara - RMT.
            [5] Colect , ia Crux Mathematicorum.